Killing the Buddha and Post-Ideological Religion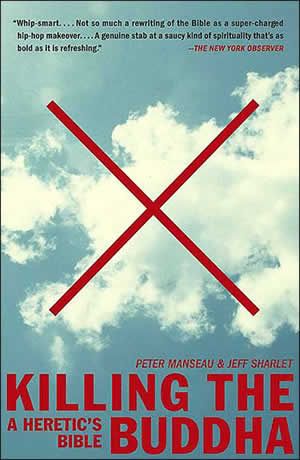 If you are serious about studying religion, you need to read this book. Granted it's not the most scholarly production in the world - no footnotes, et. al., but this book paints a new form of scholarship. If you thought you'd seen raw authenticity in religious thinking, 'you ain't seen nothin' yet.' I'm absolutely engrossed in this book - but I've surfaced long enough to post some connections with post-ideology.
Killing the Buddha
, and its
offshoot website
, works on a simple premise. If you meet the Buddha and the road to enlightenment, kill him. Why? Because that's not the real Buddha. This applies to Judeo-Christian religions as well: if you think you've found "God," you probably haven't. In order to find the "real" God, we must do away with any preconceived notions of what God must be like. This smacks of Paul Tillich's "God beyond God" -type theology. But, that being said, it's crucial to post-ideological thinking. God's name has been used throughout history for many things good and many things evil. We humans try to encapsulate God into what we think God should be - and that's idolotry. God is beyond our small minds - and we must always keep that in mind.
Killing the Buddha
advocates striking down this type of idolotry and seeking a more authentic religious experience. This experience is grounded on the belief that there is nothing wrong with being critical. For example - why do children die? There is no reason or justification for these tragedies. Should we let God 'off the hook' because God is God? Or, as God's children, are we not more authentic to go with our emotions and cry out in pain. Should we not "show" God ourselves in our pain? It is, at least, a more honest relationship with God. I think the moderation practiced by most Christians is faulty at best. What do I mean? If we're happy, we should pray prayers of thanksgiving and joy. If we feel pain, what is wrong with telling God in the most authentic way we know? Don't misread me: I'm not advocating cursing God. Far from it. Rather, I'm suggesting that we tap into our honesty and attempt to have a real and authentic relationship with our Creator.
Maybe these are the first steps toward thinking post-ideologically about religion (baby steps?). Anyway, if you've taken the time to read all of this post, spend another 30 seconds telling me what you think. Peace.