Elie Wiesel: 20th Century Mystic?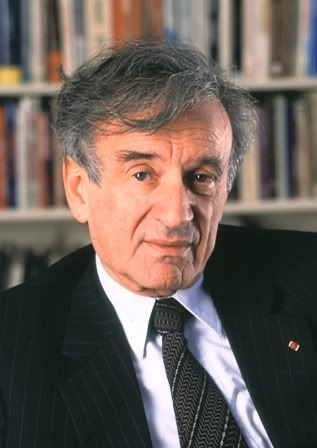 "...

every question possessed a power that [is] lost in the answer

. Man comes closer to God through the questions he asks Him...Therein lies true dialogue. Man asks and God replies. But we don't understand His replies. We cannot understand them. Because they dwell in the depths of our souls and remain there until we die. The real answers...you will find only within yourself."


--Elie Wiesel,
Night
, pg 5. (emphasis mine)
Out of the rubble that was the Holocaust arose a contemporary prophet that deserves our attention. Though Wiesel is a Nobel Peace Prize receipient, he deserves a new hearing with every generation, lest we forget the attrocity he lived. If you haven't read
Night
, you need to. This is a piece of contemporary literature that will stand the test of time, unlike the scores of junk currently for sale at the book store.
Though Wiesel is Jewish, I'm going to elaborate on this quote to expand some ideas in Christian theology. Some thoughts: this quote summarizes an early Christian dictum: faith seeking understanding. We have faith that God is active in our time and space, though it is hard to see at times. God interacts with us, though we do not understand God's message to us. It is a demanding love, a love that was bought with the cross, a love that is full of grace. Our Jewish brothers and sisters are in solidarity with this point: faith is seeking understanding. We desire God to speak to us today.
The final sentence in this quote, "The real answers...you will find in yourself," is very important. Though it may sound like a gnostic pitfall, I argue that it is not. Rather, God has given us all a conscience, an ability to reason, an ability to live for and with God. We must, in this time of fragmentation and worldly non-sense, come to our own answers. We are guided by the love of God into presence with the divine, but we must live amongst one another here on earth. We must learn how to love our brothers and sisters. We must never let the Holocaust happen again. And yet, it has, many times. Some of the well known: Bosnia, Rawanda, and now Sudan. We let people systematically kill one another with the fear that we'll step on some toes (talk about political crap). I'm all about non-violence and diplomacy, but Wiesel is a voice who cannot be ignored - we mustn't allow this to continue. Instead, how do we reverse this terrible equation? How do we systematically encourage peace?
The answers do remain buried in our souls until we die. It is our duty to search deeply and search for these answers. This is done, as Wiesel comments, with dialogue with God. We must ask God questions - and, in return, await God's answer. Wiesel is right, the real dialogue occurs when we ask questions. That is authentic existence. Have the honesty to ask the hard questions. Jesus did - "Father, why have your forsaken me??"